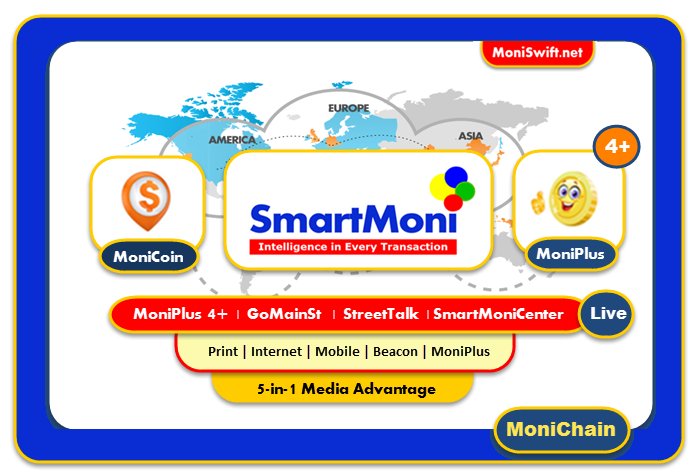 Who Will Succeed
Live & On Demand
Brands - Features - Delivery - Service - Experience
We put the i in Moni and Give You More
We increase the Purchasing Power of Every Transaction while Building Relationships & Stronger Communities
US Launch Coast to Coast
We begin Nationwide in 108 Cities with National Partners 134 Grocery Store Chains focusing on 785 National Retail Restaurant & Service Chains utilizing 4 Major Branded Platforms delivering solutions across 5 Media. All with Depth & Breath to include targeting 10 Broad n Specific Market Segments. We integrate and increase engagement while expanding commerce across all market sectors to include all participants: People Merchants Business & Global Exchanges

SmartMoni w/MoniPlus
GoMainSt PocketPlus | StreetTalk | SmartMoniCenters
MarketSocials - SocialStream - MoinChain
MoniChain
A Fast Start for Profits & Market Dominance
In the USA Market, we have partnered with 134 Grocery Chains in 108 Cities with 13,400 locations to Introduce PocketPlus USA with National Retail, Restaurant and Service Chains to be launched in 5 Months.
A New Type of SocialNational Launch - USA COAST to COAST
We expand the number of options PocketPlus 5X to promote your product service or brand, then apply a 5-in-1 Media Advantage. We broadcast your Promotion across Print - Internet - Mobile - Beacons and create MoniPlus. We use convergence to increase the Value of every Transaction while providing enhanced features and benefits and giving you more.
MarketSocial - GoMainSt PocketPlus USA
- Wuts New! Wuts Hot! Wuts a Deal (2X Wildcards)
- Promotions by National Restaurant Retail & Service Chains
- 5-in-1 Media Advantage - Print Internet Mobile Beacons MoniPlus
- 10 Markets: CitiLife Dining Home Healthcare Services Investing Charity Acts-of-Faith Politics Travel
- People Teams Merchants Companies Organizations & Gov
- Promotions - Social - Messaging - Commerce - MoniPlus
- Convergence
A New National Brand with Immediate Profitability
- 8 Million PocketPlus Guides across 108 Cities at 134 Grocery Chains @ 13,400 Locations - All Month Long
- We are profitable the 1st Month w/$5-10 Million in Revenue, 51% Profit margin and scheduled to grow 25-50% monthly.
- 1st 12 Months is $234 Million in Revenue
The USA is Global Model.
We will partner Country by Country with Mobile Carriers, National Chains, Grocery Chains & Convenience Stores to expand into 187 Country Markets
MarketSocial - SocialStream - SmartMoniCenters
We Deliver a Bigger Solution
Sure, current money is expensive, cumbersome unsecured and stupid. But ask any small company about the high cost of advertising and promotions. That's a bigger problem. In the past decade, we have seen the emergence of the digital stream to include voice, data, video and now with the block chain - transactions. Why not use and integrate them all to provide a true end to end solution with new capabilities intertwined with true value-added benefits and intelligence. SmartMoni tackles this head on. Through convergence we deliver whole new solutions. We blend Promotions, Social Messaging & Commerce then integrate it to specific marketp and tailored for better services. We utilize the data-stream to create SmartMoni.
Expanded capabilities and reinvented Commerce by increasing the market engagement of participants at every level while at the same time, extending its reach across 5 different media.
SMARTMONI COINICO - 3 PHASES
1. PRE-ICO - 2. SMARTMONI ICO - 3. PARTNER ICO
$2 Million Invested / 2.5 SmartMoni Billion Coins & 19 Trillion MoniCoins Issued
[ GoMainSt PocketPlus w/$234 Million Revenue - 1st 12 Months ]
Jan 20 - 30, 2018SmartMoni PRE-ICO - PENDING - 40% Bonus Buy
SM is planning to raise between $150,000 USD by selling Coins.
- A Coin (SmartMoni) will be created on the Waves Platform for crowdfunding.
- Min. cap: 300,000 SmartMoni (150 thousand USD)
- Max. cap: 16 Million SmartMoni (8 million USD)
The initial rate will be 1 USD = 50 Cents: SmartMoni
- 1 SmartMoni = ETH .00163 & BTX 0.000088
- 1 Eth = 610.6 SmartMoni | 305.32 US Dollar
Coin Offering
The expected amount of coins to be offered is 800 Million SmartMoni through 3 Phases ICO
The coins will be sold at a discount to early buyers at 30% bonus with a sliding scale to end of ICO

$80K - 20 Million Coins Offered for Sale
GoMainSt | StreetTalk | SmartMoni
Distribution 108 Cities w/134 Grocery Chains at 13,400 Locations
40% Bonus Buy
Distribution 108 Cities w/134 Grocery Chains at 13,400 Locations
20,000,000 Issued $2 USD = 50 Cents
Amt USD Raised

1 - 40,000
40,000 - 80,000
80,000 –250,000
250,000 – 500,000
500,000 – 1,000,000
1,000,000 – 4,000,000
4,000,000 – 8,000,000
Each Round

40,000
40,000
170,000
250,000
500,000
3,000,000
4,000,000
Coins per 1 USD

30 Cents
33 Cents
36 Cents
39 Cents
41 Cents
44 Cents
45 Cents
Coins Sold

133,333
121,212
472,222
641,025
1,219,512
6,818,181
8,888,888
$80K- 8,000,000
$8,000,000


18,294,373




16,000,000 @ .50
2,294,373 Bonus
Feb 1st - March 1st, 2018SmartMoni ICO
PENDING
$8 Million - 200 Million Coins offered for Sale
GoMainSt | StreetTalk | SmartMoni
MarketSocial – SocialStream - MoniPlus
PocketPlus Distribution In 108 Cities w/134 Grocery Chains at 13,400 Locations
80,000,000 Issued
Amt USD Raised
$$$

10 Million
10-20 Million
20-40 Million
40-60 Million
60-80 Million

Each Round
$$$

10 Million
10 Million
20 Million
20 Million
20 Million

Amount of Coins
per 1 USD

50
50
50
50
50
Coins Sold


20 Million
20 Million
40 Million
40 Million
40 Million
$8- 80 Million




160 Million
Partner ICO
June 1st thru Sept 1st, 2018
$80 Million to $2 Billion

GoMainSt | StreetTalk | SmartMoni
MarketSocial – SocialStream - MoniPlus
PocketPlus Launch in April 2017
GoMainSt PocketPlus w/$234 Million Revenue - 1st 12 Months
Distribution 108 Cities w/134 Grocery Chains at 13,400 Locations
Valued at 3-5X Earnings = $115 Million Income | $345-$575 Million
Benchmarks
1. GoMainSt MarketSocial Deployed
2. StreetTalk SocialStream Deployed
3. SmartMoniCenter Deployed
4. SmartMoni w/MoniCoins @ CitiMart Deployed
5. PocketPlus Launch 108 Cities
5-in-1 Media Advantage – Print | Internet | Mobile | Beacons | MoniPlus
6. $10-20 Million Mthly w/25-50% Growth Rate = $234 Million in 12 Mths
7. Expand to 8 Qtrly Community Guides w/5-in-1 Media – Dining, Home, Healthcare, Services, Investing, Charity & Acts of Faith, Politics, Travel & Latin
8. 108 Cities w/CitiMart with SmartMoni – MoniPlus | SmartContracts | CitiMart
8. Merge with National Distributor w/Offices in 100 Cities
9. Add Partners with SmartMoniCenters (Initial Launch - USA, Philippines, Singapore)
$80 Million to $2 Billion
500 Million Gold Coins offered for Sale
4 Mobile Carriers 785 Nat'l Chains & 134 Grocery Chains = 923 USA Companies
If 100 Invest $20 Million = $2 Billion USD Raised

Amt USD Invested

0-80 Million
100 - 200 Million
200 - 400 Million
400 - 800 Million
800 - 1.2 Billion
1.2 - 1.6 Billion
1.6 – 2.0 Billion
Each Round

80 Million
100 Million
200 Million
400 Million
400 Million
400 Million
400 Million
Coins per 1 USD

2.00
2.50
3.00
3.50
4.00
6.00
8.00
Coins Sold

40 Million
40 Million
67 Million
115 Million
100 Million
66 Million
50 Million
$2.0 Billion




418 Million
3 ICOs
Total SmartMoni Gold Coins 596 Million Sold to Raise $2,088,000